It's the New Year and naturally, you'll want to reward employees for the past year. For the hardworking ones, a bonus is certainly in order! However, there's this nagging fear that you can't seem to shake off. For many employers, you've witnessed too many stellar employees putting in the dreaded resignation letter once the bonus reaches their hands. It's inevitable that some of them are seeking greener pastures, but how do you ensure that operations continue without disruptions with decreased manpower? The Career Conversion Programme, or CCP in Singapore, just might be the solution!
So, what is the Career Conversion Programme (CCP) all about?
CCP is a structured program that helps HRs and companies tap on a larger pool of candidates with added benefits such as up to 90% monthly salary support and course fee subsidies.  
This helps companies acquire trained manpower, assess new hires efficiently and easily while minimising operational disruptions. 
This is How CCP Works in 3 Simple Steps:
Step 1: Employ Singapore Citizens or Permanent Residents 
Targeted at mid-career switchers, to undergo skills conversion and move into new occupations or sectors that have good prospects and opportunities for progression.
New hires must not have held similar job roles or related positions in previous employment.
Step 2: Qualified employees undergo industry recognised courses while working
Trainees will undergo structured on-the-job training and the following courses with BELLS Academic Group to transit into the new job role. 
CCP trainees must complete all relevant training within the CCP duration
Step 3: Participating companies will receive up to 90% salary support and up to 70% course fee subsidies 
There are different levels of salary support and course funding for Singaporeans, Singapore PR of age 21-39 years old & > 40 years old.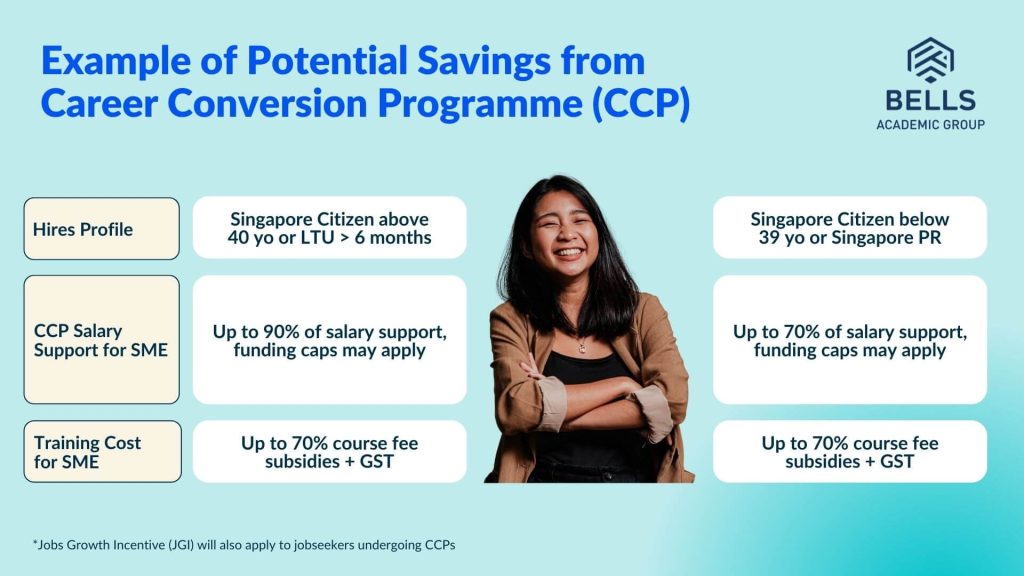 As you can see, the benefits of hiring through CCP is that it provides career switchers with a structured pathway to upskill and reskill. This provides businesses with a larger talent pool to draw on, helping to ease any sudden demand surges in manpower, such as during the festive period. 
On the plus side, there's also substantial CCP salary support for employees, which can help to ease the cost of upskilling while also providing employees with liveable wages.
Once your company has tapped into CCP in Singapore, you can proudly say that your organisation actively supports the professional development of employees and provide workers with opportunities to upskill themselves.
—
If it's too big of an undertaking to develop your own hire and train programme from scratch, employers can take advantage of the Career Conversion Programme hosted by BELLS Academic Group. 
Under BELLS Academic Group, there are 3 distinct pathways that are covered under the CCP:
1. Media Technical Support Specialist (6 months training): This role assists the organisation with technical support issues or questions. This also extends to helping customers in a front-facing role, from diagnosing technical issues over the phone and troubleshooting during equipment installations.
2. Digital Sales and Marketing Automation Specialist (3 months training): This role is responsible for managing any sales & marketing automation platform, fully leveraging its capabilities. If there is no such platform, they'll ideally be the ones to kickstart the platform by working closely with designers, developers, and project managers etc. They'll also be responsible for implementing future marketing and operational initiatives through this platform.
3. Project Management for Digital Transformation (6 months training): Also known as a Project Manager role for Digital Transformation, this role is responsible for concurrently delivering successful outcomes for key business transformation projects via effective and pragmatic project management. 
Does any of the above roles sound like a great value-add to our company's bottom line? Learn more about our Career Conversion Programme here.