Before the inception of the Career Conversion Programme (CCPs), employers in Singapore have experienced difficulties hiring skilled workers to meet the demands of their business in a post-COVID world.
What is the Career Conversion Programme?
The Career Conversion Programmes (CCPs) is an initiative under the WSG to help companies adapt to changing market conditions and ease recruitment efforts. CCP is for mid-career individuals to undergo skills conversion and move into new occupations or sectors that have good prospects and opportunities for progression.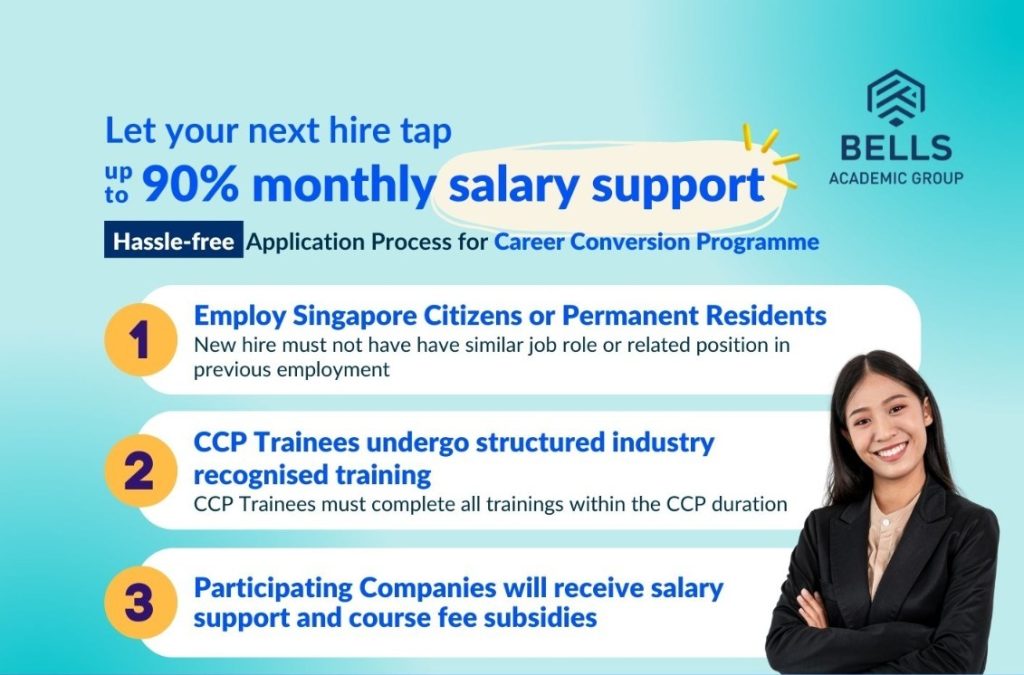 Eligible SMEs will receive training for their new hires to prepare them to take on their new role with up to 90% salary support for up to 6 months.
What does this mean and how can CCP help your business
This programme addresses these common issues for SMEs:
Manpower Shortage
Many SMEs are experiencing difficulties in finding suitable candidates for specific roles due to the labour market's limited supply of skilled labour.
CCP allows companies to tap into a larger pool of candidates of unskilled workers.
Skill Gaps
With the advancement of technology, the existing pool of candidates may not have the required skills to meet current demands of the business.
CCP helps to train new hires with in-demand skills to meet business needs to keep up with rapidly changing technology and business landscape.
In-Demand Positions Offered by BELLS Academic Group
BELLS Academic Group offers 3 high-demand roles under CCP. These roles can help your business mitigate the effects of digital disruption while concurrently exploring new opportunities for growth.
"Digital technology has changed how customers search, buy, and interact with businesses." Sunil Gupta. 
Build your online presence through social media, SEO and websites and achieve transformative results with a Digital Sales and Marketing Automation Specialist on your team.
The Digital Sales and Marketing Automation Specialist is responsible for managing the sales & marketing automation platform and fully leveraging its capabilities. They will work closely with designers, developers and project managers.
This role also utilises the in-demand skill of Robotic Process Automation to help streamline business and operational processes.
High-value skills trained for this role under CCP:
Robotic Process Automation
Social Media Marketing
Search Engine Optimisation (SEO)
Code-Free Website Development
A Media Technical Support Specialist is responsible for providing media support for marketing departments. Duties include photography and videography for social media and website creation for branding purposes.
High-value skills trained for this role under CCP:
Sound Engineering for Live Events
Code-free Website Development
Photography & Videography for Social Media
Light Engineering for Live Events and more
3. Project Management (Digital Transformation) (Duration 6 months)
Planning to have a digital overhaul for your business process?  Having a Digital Project Manager might just be the key to success.
The Digital Project Manager is responsible for planning, organising, and directing the completion of projects while ensuring these projects are on time, on budget, and within scope.
CCP equips the individual to manage multiple high business impact projects by harnessing technology to revolutionise your business.
High-value skills trained for this role under CCP:
Code-Free Website Development
Customer Experience Innovation
Robotic Process Automation
CompTIA Project+
Digital Transformation in the Era of 5G & AI
What are the eligibility criteria to apply for a Career Conversion Program? 
For Employers: 
The participating company must fulfil the following criteria:
Registered or incorporated in Singapore

Must be able to offer the CCP trainee a full-time employment contract on permanent terms or on contract terms that are no less than one (1) year, directly related to the job which the CCP is for, with remuneration that is commensurate with the market rate
Commit to the CCP training arrangements for the mid-career individuals that they have selected
Be committed to work with WSG or its appointed partner on the necessary administrative matters related to the programme
For applications for redeployment/JR Reskilling CCPs, companies are required to submit details of their business transformation plan for evaluation by the appointed program partners.
For Employees: 
The general non-academic criteria for mid-career individuals are:
Singapore Citizen or Permanent Resident
Minimum 21 years old
Graduated or completed National Service, for at least 2 years*
New job role trained for under the CCP should be substantially different from previous job role(s), hence requiring reskilling for career conversion**

Able to commit to full-time employment or attachment in a participating company
*This will be counted from the date of graduation from latest qualification, or date of completion of national service, whichever is later.
**CCPs are geared towards helping mid-career individuals acquire skills to change careers.
There is a requirement for career conversion when mid-career individuals undergo a CCP. However, individuals who have a continuous employment gap of at least 2 years prior to CCP commencement will be allowed to apply for CCP job roles similar to their previous
Interested to learn more and apply for CCP for your business?
Join us on every Thursday at 11am for a no-obligation CCP Onboarding LIVE Webinar by BELLS to find out.